The vast majority of Cat's work is done for vocal groups, usually unaccompanied in three or four part harmony. Cat is known for her innovative and interesting arrangements, and has tackled a variety of material from traditional English folk songs to pop classics. Below left is a video of Cat's two choirs singing her arrangement of Coldplay's 'Fix You'.
In 2014 Cat was commissioned by Oxford City Council to compose a song for Oxford's Christmas Light Festival, which was premiered at the festival finale on 23rd November 2014, performed by five adult community choirs and six school choirs. Below right is the video of the first performance of Cat's song 'Share Your Light'; click here to purchase the sheet music.
"Beautiful, brilliant, amazing. Wonderful to be part of it." -- choir member
Cat also composes and arranges traditional tunes for folk ensembles, and her original dance tunes are played by at least two different ceilidh bands.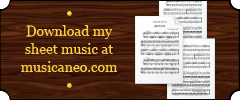 Cat can adapt or compose songs for aspiring musicians and singers with Special Needs, and can translate songs for singing with Makaton signs. In 2015 she was given a grant to create a performance set of twelve folk songs with Makaton signing, which were performed at Folk Weekend: Oxford in April 2015. For more information about this project visit the project blog, or the Iris website.